April 25th, 2012
I sold this suit two years ago, but it is in our "short list" of favorites. It was (is) a metallic suit from the late 60s. Although it is from the tail end of the decade, it has major mod sensibilities with its Italian cut and slim collar placement that we would place just a couple years earlier.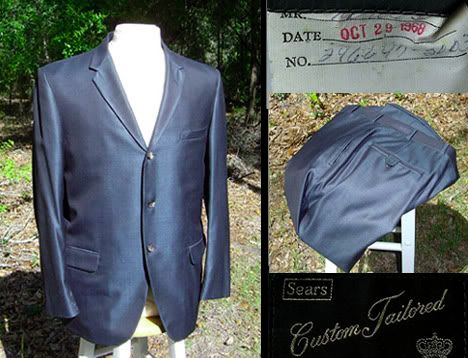 Tailor tags can be very important in dating menswear, especially because the classic suit doesn't change as rapidly as ladieswear and is sometimes harder to pinpoint in less than a 5 year period even if one is very knowledgeable. Of course, there are "of the season" cutting edge looks available for the fashion forward, but for the average man, a suit is an investment piece. They want to be stylish, but they don't want to look dated the next year, especially if their employment or social outings do not require a suit for daily wear.
This particular suit came from Sears. The tag is not specifically a tailors tag of a custom suit, but the date the suit was altered for the original buyer. Unlike high fashion magazines that show what the designers introduced each year, the Sears catalog was a very good record of what the average person was actually wearing that year, just like the paint colors represented what was actually in the average homes of America. It may not be nearly as exciting as haute couture, but is invaluable for historians, re-enactors, vintage lovers, and costumers alike.
In the fall of 1968, the year of this suit, though the Brits had moved onto more fluid lines, American Mod was still showing an influence on American fashion and was interpreted in a little more of a relaxed fashion.
At the tail end of the 60s, because of the new synthetics, shades that could never be achieved before were everywhere. I have seen quite a few menswear in the jewel tone blues, greens, and teals during this time period in many eye tricking fabrics and hues that begged the question "Is that blue or is that green? Greenish Blue?". I have often needed a second or third opinion myself!
Having a specific date always makes me wonder if the date had been around a special occasion. I always imagined with the suit being tailored in proximity to Halloween, that perhaps someone bought it who went to an alternate event. They might have gone to a performance at a concert hall instead of a costume party that night. Or maybe it was just a coincidence, just another day.
1960s, vintage clothing
|
Comment (0)
April 19th, 2012
This post brought to you by Kia Rio. All opinions are 100% mine.
When I was a tot, and when I became a teen to parents who suddenly decided to go frugal and buy a 12 year old car with only an AM radio, our only listening choices to blare on a summer's day on the freeway were Chuck Mangione's "Feel So Good," an instrumental version of "The Girl from Impanema" and the bumps in between segments on WLS in Chicago. I will note that we did not live anywhere near Chicago, nor in Illinois.
It's one of those spring days with sunshine and a sudden heatwave that summons the 62 Chevys and vintage cafe racers out of the garages and barns. Will it be a false start, with the sunny day bookended by frost and torrential rains? March and April sometimes throw a speedbump into the wind. But honestly, despite my love for vintage mobiles, the above listed songs only make me think of sticky red vinyl, side panelling – and definitely not in a good way.
Now that you are thinking if raindrops would smudge your Chevelle, Kia and Spotify are asking for submissions for their "Best Songs with your Windows Down" playlistt. The list is crowd sourced on Facebook. You can add your very own submisson
If you want to see all of the submissions from others, click on "View Playlist." A dialogue box will ask you which application to open the songs in and will give you the opportunity to download Spotify.
The submitters have not disappointed me. I searched for the most obscure and oldest turns and many astute listeners selected Beethoven.
No Gregorian chants yet, however. I decided to be a bit mirthful in my suggestion:
According to KIA, listending in the car is much safer these days when you can voice activate your entertainment system. So, play on with your Spotify playlist in the house, on the phone, and in your vehicle.
What are your favorite summer driving tunes?
Uncategorized
|
Comment (0)